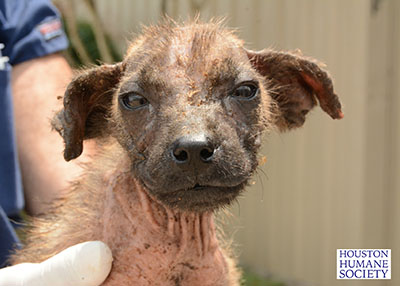 Wednesday, May 18, 2016
Animal Cruelty Seizure
The Houston Humane Society assisted
Harris County Constable's Office Precinct 5
in an animal cruelty seizure on Friday, May 13, 2016. The HHS took custody of 12 animals from the 10900 block of Ell Road. The animals included 2 horses, 2 pigs, 6 chickens and roosters, and 2 dogs. The animals were living in deplorable conditions, and each one is now under veterinary care at the Houston Humane Society's Animal Wellness Clinic where they are receiving the medical attention they so desperately needed.
"It's heartbreaking to see animals suffering needlessly," said Monica Schmidt, spokesperson for the Houston Humane Society. "The conditions we found them in were some of the worst I've ever seen. Lucky for them, our team was able to step in to rescue them, and our vet staff is treating for an assortment of issues including malnourishment, neglect, severe skin disease, parasites, and more."
The Houston Humane Society and Harris County Constable's Office Precinct 5 were alerted to the situation through their partnership with Harris County Animal Control. Precinct 5 Officers sought a seizure warrant to remove all animals they believed to have been cruelly treated. Yesterday, May 17, 2016, custody of all animals were officially awarded to the Houston Humane Society. Anyone interested in adopting can contact
adoptions@houstonhumane.org
.
You can donate directly towards our animal cruelty efforts online at:
https://www.houstonhumane.org/%28Give%29/giving/donation-gifts/raider-animal-cruelty-investigations