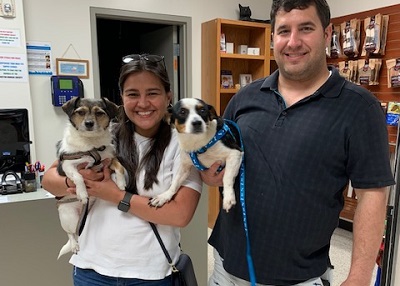 Tuesday, July 23, 2019
Happy Tail Dixie
Hello Houston Humane Society,
I'm Dixie (used to be called Jazmine) and my brother Terry who is busy chewing on my mamas allergy notes. We we're adopted a few weeks ago and I forgot to send the picture. We have been adapting to our new family. Terry at first was scared of the TV, of the car rides and had no clue how to play with toys. Guess what? Now he loves car rides and loves to play with toys but he likes to sleep a lot 🙄. I had a hard time opening up to my mom and dad but now i know they love me so much. We go to parks to exercise, we went to dallas on a family trip, we love frosty paws 🤤, we have sooo much toys, comfy beds, smelly blankets and two loving parents. Thank you for taking care of us for so long. We are glad my mom and dad chose us and that we chose them too. We are a happy family of 4! Life is good.
PD I attach pictures of the adoption day and a few more.
With Love,
Dixie and Terry