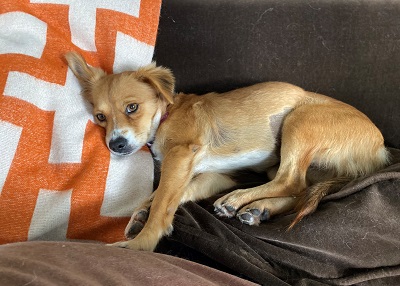 Tuesday, December 15, 2020
Happy Tail Dixie
Hi there!
On Wednesday I had the pleasure of bringing Daisy (now Dixie!) home with me. Walks are Dixie's favorite, and everyone comments "Cute puppy!" even though she's a year and half 😉 she's THAT cute! She's warming up to car rides, and had an awesome report from her vet, Dr. Ford, at Fondren Animal Hospital. She and her older kitty sister, Mickey, aren't so sure about each other yet, but I know they'll be best friends in no time. Here are some photos of Dixie's first few days at home!
Thank you for taking such great care of my girl! I couldn't be happier to call Dixie mine.
All my best,
Shelton, Dixie's Mom
PS. Will you please show these to the volunteer gentleman who was working on Tuesday afternoon? I didn't get his name, but he took Dixie on a test walk with me. He was so very kind and informative, and I want him to know she is happy and safe in her forever home.