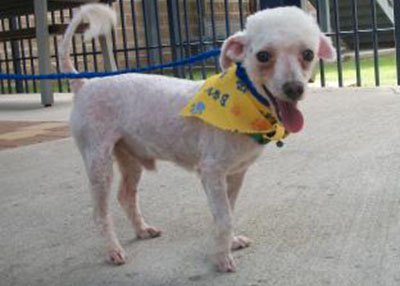 Tuesday, September 26, 2017
Happy Tail Jeffey and Missy
Hello,
I just wanted to drop a line about the 2 wonderful fur babies we have adopted from your facility.
The first dog we adopted was in 2009, named Jack (his original adoption photo is attached) We renamed named him Jeffey, (new life, new name)!
He has been our sweet precious baby boy ever since. Earlier this year he underwent radiation treatments for cancer at Gulf Coast and is currently cancer free! Not too much slows him down. He used to come to work with me everyday (before my office moved closer to our home) but now Jeffey is retired 😊 He loves walks, chasing lizards in the backyard and snuggling on our laps (here he is on his white fluffy blanket, the running joke at our house is that we need a different color, he blends in and we walk right past looking for him.)
In January of this year we adopted a heartworm positive chihuahua mix named Jillian. We have renamed her Missy and she has completed all of her heartworm treatments with our family vet!
She loves going on walks and playing chase around the house & yard with her brother Jeffey. She is an A+ snuggle buddy and even likes to watch TV (as long as the shows don't feature dogs or people playing golf, seriously, any other sport is fine but she barks at golf) 😊
I have attached 2 photos of Missy as well.
We can't imagine our lives without these 2 in it!
Thank you to everyone at Houston Humane Society for all that you do!
Best Regards,
Fallon