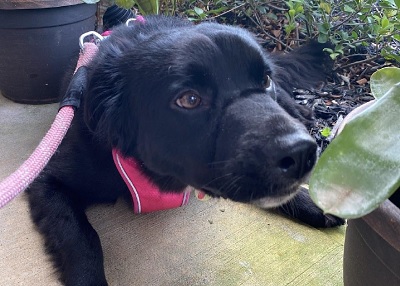 Tuesday, January 5, 2021
Happy Tail Koda
Hello! Caitlin and Jon here. We are Koda's owners. The Houston Humane Society reached out to us to give an update about Koda. It's been almost a year since we've adopted her. We have learned so much about Koda, and can't wait to share it with you. Here are some fun facts about our Koda or who we call our Koda girl.
Koda is a Border Collie Labrador Retriever mix. This means she has lots of energy. She definitely keeps us busy. Koda was born on April 1, 2019. She's an April Fool's baby, which is unique. Not all rescue owners are given their dog's birthday, we are fortunate that HHS had her's on file.

Koda's Gotcha Day is December 9, 2019. Depending on when you are reading this, it's only two days away! Koda loves food. We have yet to find food or treats that she does not like. She will eat pretty much anything you give her. She does have a favorite treat, which is Grandma Lucy's Organic Treats.

Koda loves to play. She enjoys running around outside and playing with any toy she can chew on. Not only does she have a lot of energy, but Koda likes to chew. We've gone through many toys trying to find the ones that can withstand her chewing. Koda loves to find comfy spots. Whether it's the couch, her bed, or one of our pillows, she will find a spot and stay until she's ready to move. If you're not careful, in the middle of the night, she will push you off of your pillow, so she can be on it. Once you notice, she will let you put your head in between her front paws, and she will give you kisses. Koda also loves people, whether it be the maintenance man, the neighbors, the neighbor's kids, and even the vet. She seems to think that going to the vet is an adventure and gets excited when she gets to go see the vet. One time she even jumped up on the vet counter just to give kisses to the front desk ladies at the vet office.

Overall, Koda has been an amazing and loving dog and I wouldn't trade her for anything in the world. If you are interested in following Koda's adventures, she has an Instagram account: @the_koda_girl_2019. Feel free to follow!