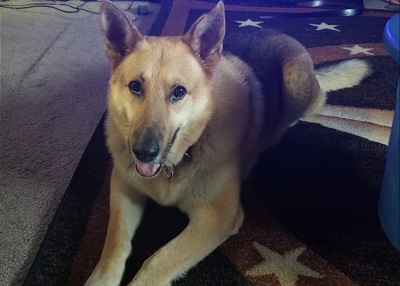 Tuesday, February 19, 2019
Happy Tail Max
Hello Friends!
It's me, Maximus Ares! It has been a whole year since I was adopted by my family. I was seven when I was adopted and my mom wasn't told very much about my "former" life. What my mom learned, I was trained not to jump on furniture or people and I knew basic commands. My age, size nor my special care didn't discourage her. She saw a very handsome, intelligent and loving companion. We are extremely close and she has taught me where she keeps the cheese, to give her kisses (I was unsure on the kisses part but she loves it.) and to speak on command. When she leaves for work in the morning, she gives me extra love and promises to return as soon as she can. She tells me one day, she is just going to take me to work and hide me under her desk all day. I know when she is about to come home and I am waiting for her close to the door. I am good at telling her when it is bedtime as well and I am usually sleeping by her side of the bed. My dad even said to my mom, "I can always tell where you are at" and she said "How, so?" He said, "I just look for Max". To say, my mom and I are close is a bit of an understatement. She believes we were meant to be. I will be 9 sometime in June and my mom has made the vow to make the rest of my life the best of my life.
Also, we received the best news when my mom took me for my annual shots. I am heart worm negative!!!!!
So on behalf of all the older dogs out there, please do not overlook us.
We may need a little special care but what we are able to give in return is immeasurable. (Just ask my mom, she will tell you!)
All my best barks,
Maximus Ares R.