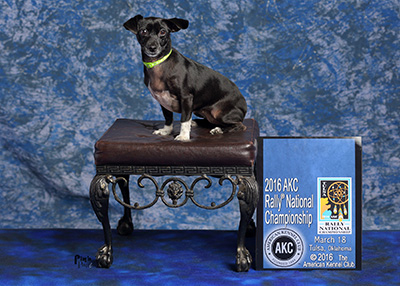 Tuesday, May 24, 2016
Happy Tail Tinker Bell
Hi,
I adopted Tinker Bell from HHS in 2013 and this year we qualified to participate in 2016 AKC Rally Nationals. My husband and I are really proud of her and would like to share with you our story:
We adopted Tinker Bell in June of 2013. We were looking for a companion dog for our Border Collie that could bring her out of her shell. Tinker was a little black Chiweenie that stood out from the bunch in her kennel, jumping and wagging her tail like no tomorrow. She knew exactly what to do with our dog Bela and helped us in having a happy pack.
We started training in an obedience school and my dear Tinker would not even do a down under any circumstance. That's when I got told that some dogs are just meant to be pets… well, I didn't settle with that and after a lot of work we decided to start competing. In May 2015 we participated at our first Rally Trial. Tinker not only did a good job, but she was really happy to work with me so we continued to compete and even qualified to participate in this year's AKC Rally Nationals in the Advanced Category.
Tinker and I got to Tulsa with a lot of nerves to compete against the best in the country. We not only passed the test but we were able to get a good score in our overall run. We are really proud to be one of the 28 "All American Dogs" that participated in this AKC National competition. Tinker is really grateful to HHS and would like to say: "Thank you for giving me a second chance and letting my mom find me".
Thanks,
Lorena