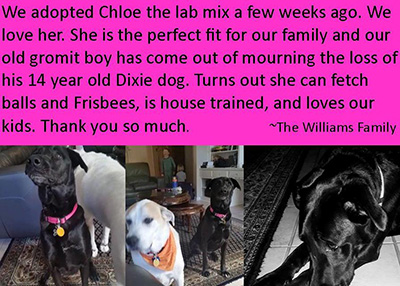 Monday, May 18, 2015
Happy Tails Chloe
I adopted Chloe ( shelter name Cinnamon) from the Houston Humane Society on June 27, 2014. I had been looking at several shelters online trying to find what I hoped would be the perfect pet for our family. I came across Cinnamon and loved her profile. I sent Ms. Priscilla Lopez an email expressing my interest in adopting Cinnamon at around 12:30 AM because it took that long to decide she would be perfect and I know adopting a pet is a huge decision. Imagine my surprise when I received a very kind email from Ms. Lopez at about 6:30 in the morning letting me know that she was happy I was interested in adopting one of their dogs and making me aware of the procedures. That is dedication!

I arrived at the Houston Humane Society when they opened with my paper work filled out and the location Chloe was in hoping to make their job slightly easier. I was greeted warmly and taken back to get her quickly. We were taken to a play area where I fell in love with our newest family member. When I said yes, I would take her she was microchipped and tattooed and we were on our way home. The entire staff was very kind and helpful. I would highly recommend anyone looking for a great experience to adopt a pet at HHS. The people and the pets are great.

Chloe is doing great and she is very smart. She loves to play fetch and runs like the wind. She snuggles on the sofa and chases the cat. A great addition to our family. We love her! Thank you!