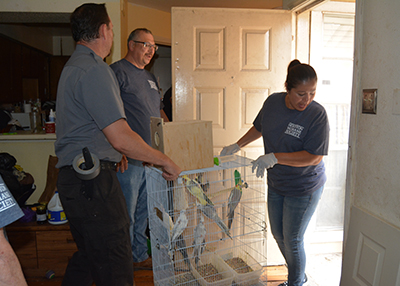 Tuesday, July 24, 2018
HHS saves 105 animals from filthy apartment
HOUSTON (July 24, 2018) — The Houston Humane Society took custody of 105 animals today. The animals were seized from an apartment in the 10200 block of Sugar Branch Dr. The animals include 13 ferrets, 16 sugargliders, 22 chinchilla, 2 prairie dogs, 11 guinea pigs, 6 African Grey parrots, 32 cockatiels, and 3 canines. The HHS veterinary medical team is currently conducting medical evaluations of each animal and creating a species specific treatment protocol for each one.
The animals were discovered when law enforcement served an eviction notice. The Harris County Animal Cruelty Taskforce was notified and deputies from Precinct 5 Constable Ted Heap's Office obtained a warrant to seize all of the animals in the apartment unit.
The animals will be housed and cared for at the Houston Humane Society until a court appearance determines permanent custody. We'll have another update after our veterinary team has had time to evaluate each animal.
About the HHS: The Houston Humane Society is dedicated to, and working towards, ending cruelty, abuse and the over population of animals while providing the highest quality of life to those in our care. The HHS does NOT receive any government funding or operating funds from national animal welfare organizations, and relies solely on donations, special events and program services. HHS maintains a 4-star rating from Charity Navigator.