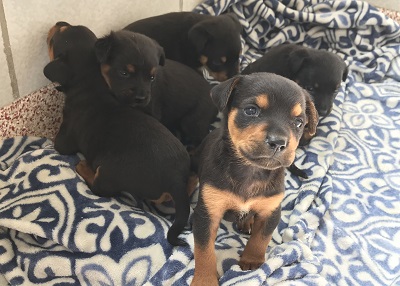 Thursday, March 28, 2019
HHS Takes Custody of Dozens of Dogs
The Houston Humane Society is caring for dozens of Rottweiler mixes today after an investigation by the Harris County Animal Cruelty Task Force led to their surrender.
The first round of 33 dogs were transported to the Houston Humane Society by animal control officials early this afternoon, and a second round will be delivered shortly. Staff immediately went to work settling the dogs in at the shelter and assessing the condition of each one. The HHS veterinary team is currently conducting medical evaluations of each animal and creating a specific treatment protocol to address the needs of each one. Due to the volume of animals, the shelter is having to double and triple up adoption dog residents to make space. While the new dogs are not ready for adoption yet, the hope is that the public will consider adopting one of the other residents to help free up space.
The Houston Humane Society is a private nonprofit that operates 100% off of donations. To help with the growing medical and housing costs to care for these dogs, please make a donation today. An Amazon wishlist has also been created for those that would like to donate pet food or supplies.
Be sure to check our website and facebook page for updates.