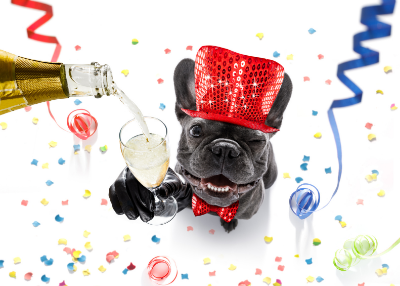 Wednesday, December 30, 2020
Make 2021 a Brighter Year for You and Your Pet
Your New Year's resolutions doesn't have to be a daunting list. This year, customize your resolutions around your four-legged friends for a brighter year.
Change your walking routine – A small, but significant, change to you and your pet's life can start by adding another walk to your schedule (i.e. get a walk-in before work once week or add an extra walk on the weekends). You can also find a different path to take! Not only will your pet be stimulated with a new set of smells, you too can appreciate a new view.
Schedule play dates – If you wish to meet new people, you can't go wrong with a fellow animal lover! The dog park is a great way for you and your pet to socialize. You can also start a pet club with fellow pet owners in your neighborhood.
Check out pet-friendly restaurants – There are a variety of local restaurants that love having four-legged customers! Try new places out this upcoming year and finish off a great date by ordering your pet a special pet-friendly dessert.
Start the year off fresh – If you can't remember the last time your pet's bed or collar was washed, the time to start is now. Bacteria can build up in our pet's toys and bowls so this year get in the habit of washing their items when you're doing your weekly cleaning.
Create an emergency plan – If 2020 taught us anything, it is to expect the unexpected. Become a prepared pet owner by ensuring you have an emergency kit ready that includes their vet records, photo, supplies, and enough food for two weeks.
Love unconditionally – No matter what your day consists of, the second you walk through your doors you are greeted with a wagging tail of unconditional love. Our pets can serve as constant reminders to show compassion to those around us and appreciate the small moments in life, like cuddling on the couch.
Whether you forget your resolutions by March or not, just by owning a pet you are already off to a great start as time spent with them reduces stress, promotes a healthier heart, and provides companionship year round.