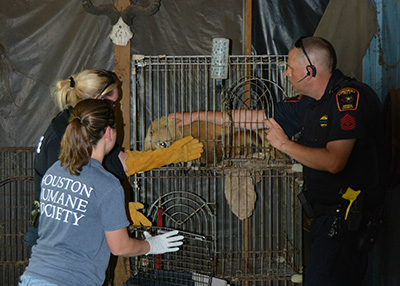 Friday, June 17, 2016
Spring Seizure
The Houston Humane Society assisted Harris County Constable's Office Precinct 5 in an animal cruelty seizure on Friday, June 17, 2016. The HHS took custody of all 10 animals from a Spring, TX residence. Animals included 4 coatimundi, 2 dogs, 2 cats, and 2 rats.
The animals were living in deplorable and squalid conditions. Each one is now under veterinary care at the Houston Humane Society's Animal Wellness Clinic.
"It's distressing to me to see any animal neglected," said Monica Schmidt, spokesperson for the Houston Humane Society. "These animals were denied basic quality of life aspects like freedom from hunger and thirst, clean living environments, and proper veterinary care."
HHS and Precinct 5 were alerted to the situation through their partnership with County of Harris: Veterinary Public Health.
Donations can be made to our cruelty program online:
https://www.houstonhumane.org/(Give)/giving/donation-gifts/raider-animal-cruelty-investigations