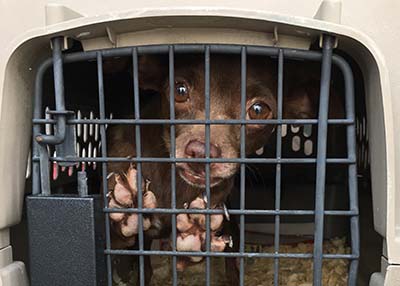 Wednesday, July 19, 2017
St. Landry Parish
The Houston Humane Society is assisting St. Landry Parish Animal Control with 50+ small and medium breed dogs recently rescued from an alleged puppy mill situation. The team from HHS is currently en route to the shelter from Louisiana. Many of the dogs are pregnant, suffering from severe periodontal disease, and a variety of other issues.
The animals are estimated to arrive at the HHS, located at 14700 Almeda Rd., at 4:30 p.m. today. A dedicated team of veterinarians, vet techs, shelter staff, and volunteers will be standing by to unload the dogs, begin medical evaluations, administer critical care, and help them begin the next step in their long road to recovery.
The dogs were taken from a suspected puppy mill location by local parish authorities. St. Landry Parish has one of the lowest income rates in the state of Louisiana. With limited funds and even less resources, representatives reached out to the Houston Humane Society for help saving the dogs. The animals were reportedly forced to live in their own feces with little to no care. There were 3 females living with each male to increase reproduction rates. Thankfully, each dog will be spayed or neutered by HHS veterinarians, and they will cease to contribute to the pet overpopulation problem plaguing the gulf coast region.