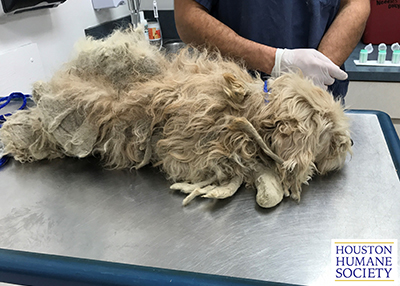 Wednesday, March 21, 2018
4 Poodle Seizure
On March 20, the Houston Humane Society and Deputies from Harris County Constable Precinct 5 seized 4 poodle mixes from a property in the 10000 Block of Radford Lane.
Deputies began investing the location after a tip was received concerning the well-being of the dogs.
The dogs showed severe signs of long term neglect. They were found extremely matted, filthy, and covered in fleas. They were brought immediately to the Houston Humane Society's Animal Wellness Clinic where they received the medical attention they so desperately need. Initial health evaluations included a full examination by a veterinarian, including bloodwork, fecal floats, and heartworm testing. Vaccinations and flea/tick medication were given.
Due to a complete lack of care for months, if not years, it was necessary to shear each one down to the skin. Our team had to sedate each dog to begin the tough task of shaving and cleaning them from head to toe. Their matted fur was full of dirt, filth, and even feces. At this time the poodles will remain under veterinary care at the Houston Humane Society. A hearing is scheduled for Tuesday, March 27 where HHS is seeking permanent custody of the animals in civil court.
The Houston Humane Society partners with Harris County Constable Precinct 5 and pays 100% of the contract for two deputies to be assigned to animal crime cases. The Houston Humane Society is asking Harris County residents to speak up for animals in need. Anyone who suspects animal cruelty can report it to
927paws.org
or 832-927-PAWS. A link to the online form can also be found at HoustonHumane.org.