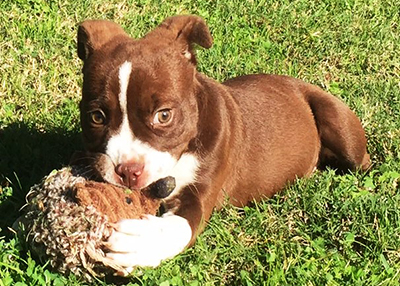 Tuesday, December 29, 2015
December 29 Puppy Case
We are excited to announce Cookie, the puppy dragged, jerked, and thrown by her previous owner (and caught on video), has started the next chapter of her journey. Houston Humane Society transferred her to one of our rescue partners
Adore Houston
on January 13th. While she was at the shelter, we spayed her, kept her up to date on puppy vaccines, and had a blast playing with her. It was sad to say goodbye after she won all of our hearts, but we know Adore will find her the perfect, fantastic home. In the meantime, she's with one of their very best fosters.
The video of a woman seen dragging, jerking, and throwing a 7 week-old puppy has led to that same woman losing custody of the dog in court today.
Thanks to
ABC 13 Houston
airing the original video, our Animal Cruelty Investigations Team was able to find and save Cookie. Custody of the puppy was granted to Houston Humane Society, and she is currently being cared for at the shelter. In the coming days, Cookie will be spayed, her puppy vaccines will be continued at the scheduled dates, and we are working to find a permanent place for her.
The quick actions of a concerned neighbor helped save Cookie. If you see animal cruelty, report it online at
www.HoustonHumane.org
or call 713-341-3396. HHS partners with Harris County Constable's Office Precinct 5, and every case is investigated by a police officer.