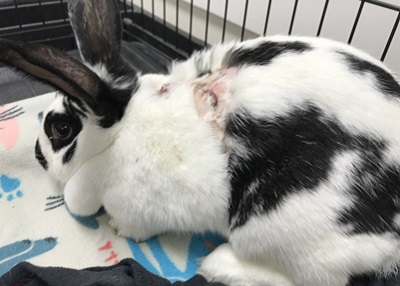 Friday, May 17, 2019
HHS Bunny Seizure
Yesterday, the Houston Humane Society took in 8 bunnies that were removed from a property due to unsanitary conditions. The rabbits were part of a larger animal cruelty case that our friends at @AIR assisted with at the beginning of this month. The City of Irving and AIR needed help finding placement for the bunnies, and we were happy to offer our assistance. All 8 bunnies arrived safely after their long trek from Irving yesterday. Our team was able to get them settled in for the night, and our Medical Director was able to examine one of the bunnies that recently had abscesses removed. We will need help finding permanent, forever homes for all 8 rabbits. If you are interested in adopting, please visit us at 14700 Almeda Rd. All of the bunnies are spay/neutered and friendly.

If you'd like to help us care for the rabbits, we are accepting donations of timothy hay and rabbit food, toys, and treats. Donations can be dropped off at our shelter 7 days a week, or you can order something from Amazon and have it shipped directly to us at Houston Humane Society, 14700 Almeda Rd, Houston, TX 77053.
Click here to make a donation online.