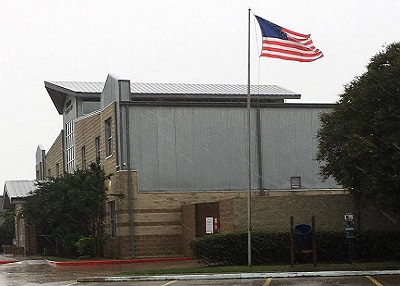 Monday, August 28, 2017
Hurricane Harvey Update - 8/28
We know a lot of you are concerned for the animals at the shelter. We have a few good news items to share today (and we could ALL use some good news today).
First, we can't help but feel hope and confidence we will ALL weather this storm when we drove up to the shelter this morning and were greeted by our American flag waving proudly.
The BIG thing - the shelter has not flooded!! The animals are safe, dry, well-cared for, and staying comfortable.
Our property is another story. Our retention pond is full and the walking trails, dog park, and meet and greet pens are under water. In the grand scheme of things, we count ourselves lucky.
For those that don't know, we took in 58 animals from La Porte Animal Control on Thursday ahead of the storm. We have heard the area around La Porte has been hit hard, and we're happy to report all of those animals are at Houston Humane Society and safe.
Roads getting to the shelter are flooded.
This morning, our Medical Director was able to find a route down Almeda to get in to check on every animal, and we have had several staff members on site medicating, cleaning, feeding, and caring for each one.
We are working with a national team to connect to other shelters to transport many of our current residents to shelters north of us. This will allow us to free up much needed space for strays. Once flood waters recede, we are working to be ready to help shelter animals displaced by Harvey.
And finally, as many of you know, we partner with El Gato Coffeehouse Cat Cafe in the Heights. Prior to major rain, our staff relocated the cafe residents to the shelter in case the Heights flooded. The residents are settled in 3 of our overflow cat rooms and safe.
Stay strong, everyone. We'll get through this together. The animals need us, and we need you. Brighter days are ahead. We'll post more as we have it.
As many have asked, we put an Amazon wish list together: https://www.amazon.com/hz/wishlist/ls/2TP1CHNL61H22?&sort=default. In the interim, a list of most needed supplies:
The biggest need will be food, food, food. Dog, cat, puppy, kitten, (wet and dry) as well as puppy and kitten milk for abandoned babies that will come in. In addition, dry hay and sweet feed or one n only for our livestock and mini mammal food.
In addition, cleaning supplies like bleach, odoban, tide with bleach alternative laundry detergent, towels (all sizes), isopropyl alcohol, hydrogen peroxide, paper towels.
You can give directly online to our Hurricane Harvey relief fund: https://www.houstonhumane.org/(Give)/giving/designate-your-gift/hurricane-harvey-fund.
We will alert you once doors are back open, hopefully as soon as flood waters start to recede.