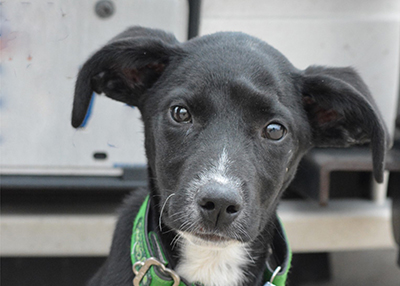 Tuesday, December 1, 2015
Puppy Seized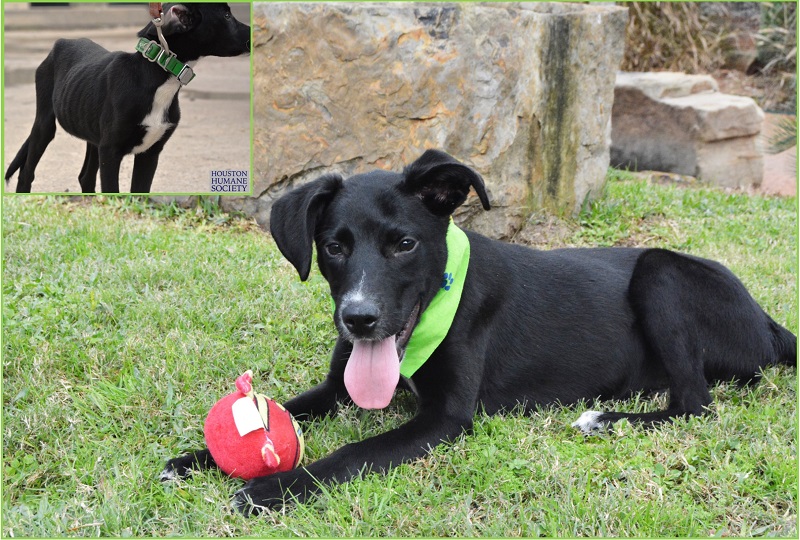 UPDATE:
January 7, 2016
Toby is officially up for adoption! Custody of Toby was awarded to the Houston Humane Society by a judge, and he has had several weeks of rehab at our HHS Animal Wellness Clinic to help put on the weight he lost when he was abandoned in a locked apartment.
This healthy, happy boy is estimated at about 5 – 6 months and is a retriever mix. He will be medium – large when fully grown, and loves going for walks to stretch his legs. He's active, playful, loves squeaky toys, and likes treats. He's a sweet boy that deserves the very best home.
On December 1, the Houston Humane Society's Animal Cruelty Investigation Team rescued a 4 month-old lab mix puppy from an apartment. The canine was abandoned with no food or water for several days when the team was notified. To sustain himself, the puppy was eating vinyl flooring and had drunk every drop of water from the apartment toilet. The deputy in charge of the case named the little guy Toby, and he's doing great in our wellness clinic. He's put on weight, and we hope to announce his adoption date soon.
The Houston Humane Society takes the unlawful abandonment of animals very seriously. Ignorance of the law is not an excuse, and each case will be investigated fully. If you cannot care for your animals, it is your responsibility to find a proper place for them.
Abandonment reports, along with cruelty and neglect, can be made
online
or by calling 713-341-3396.
About our Animal Cruelty Investigation Team: The Houston Humane Society partners with
Harris County Constable's Office Precinct 5
by contracting for two officers to spend 100% of their time investigating animal crimes. Every report of animal cruelty, abuse and neglect made to the Houston Humane Society is investigated by law enforcement.
KNOW THE LAW:
Texas Penal Code Sec. 42.092:
(b) A person commits an offense if the person intentionally, knowingly, or recklessly: (1) tortures an animal or in a cruel manner kills or causes serious bodily injury to an animal; (2) without the owner's effective consent, kills, administers poison to, or causes serious bodily injury to an animal; (3) fails unreasonably to provide necessary food, water, care, or shelter for an animal in the person's custody; (4) abandons unreasonably an animal in the person's custody; (5) transports or confines an animal in a cruel manner; (6) without the owner's effective consent, causes bodily injury to an animal; (7) causes one animal to fight with another animal, if either animal is not a dog; (8) uses a live animal as a lure in dog race training or in dog coursing on a racetrack; or (9) seriously overworks an animal.