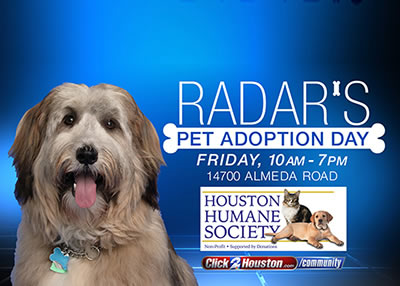 Wednesday, September 21, 2016
Radar's Pet Adoption Day
When KPRC adopted a dog from the Houston Humane Society twelve years ago, the fluffy four-month-old wheaten terrier mix immediately developed a bond with many in our newsroom. It wasn't long before the pup dubbed Radar by our viewers quickly grew in popularity across the city. He helped Chief Meteorologist Frank Billingsley do the weather and appeared at numerous public events over the years before going to live full-time with one of KPRC's senior news managers.
Sadly, Radar passed away last week and once again Houston viewers overwhelmed us with their kind words and support for the shaggy dog who had been part of the Channel 2 family for so long.
The key purpose of KPRC's adoption of Radar was to encourage pet ownership and to help more shelter animals find forever homes.
That's why in Radar's honor, this Friday, September 23, the Houston Humane Society, located at 14700 Almeda Road, will be extending its hours and offering special adoption deals.
The Radar Pet Adoption Day will run from 10am to 7pm with many dogs being adopted at half-price or even at no cost with all fees waived. (Regular dog adoption prices range from $95-$125.)
Cats will be available for a special two for one adoption fee of $50. Some cats will be offered with additional discounts.
Anyone interested in adopting a pet can fill out the application online:
The completed form can turned in at the Houston Humane Society in person, by email (
adoptions@houstonhumane.org
) or by fax (713-433-4325.)
If you've been considering adopting an animal, we hope to see you this Friday at the Houston Humane Society.