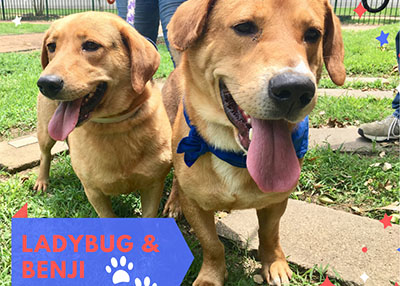 Tuesday, July 2, 2019
US Storage Centers Sponsors Adoption

Since 1985,
US Storage Centers
has delivered local and convenient self-storage solutions, as well as living up to their core values and purpose for giving back to charities across the country. Recently, US Storage Centers offers Houston Humane Society the opportunity to help give animals a second chance at life and love while working towards providing the highest quality care for the animals throughout the Houston area.
"US Storage Centers is proud to be a partner for pets and advocate to generate awareness of animal welfare. As we team up to support Houston Humane Society and the adoption of Ladybug & Benji, we are optimistic the adorable duo will find their forever home! US Storage Centers is committed to making a difference in ongoing care and adoption for animals in dire straits," said Bita Arabian, Marketing Coordinator.
The US Storage Centers company has generously gifted Houston Humane Society with the adoption fees and medical care of Ladybug and Benji. The contribution will assist in offsetting the expenditures and ensure we save more animals, like Ladybug and Benji, moving forward. Because of generous donations like these, Houston Humane Society continues to save animals that may otherwise be euthanized, neglected, or abused.
Benji and Ladybug are 2-year-old siblings that come from the Basset Hound family, mixed with a bit of Golden Retriever, and a whole lot of love. Ladybug and Benji snatch the title of cutest pups on the block. Ever since birth, the furry pair cannot get enough of each other making them the perfect adoptable pair. After all, life is better together than apart! In their free time, Ladybug and Benji prance around on walks and wrestle around with their toys. Every person they meet is their new best friend and the pair is patiently waiting to be welcomed with loving, open arms.
Everyday heroes, just like US Storage Centers, support Houston Humane Society in many ways. We thank the team for making a difference in the lives of our furry friends. You inspire us with your creativity and generosity!